Customers
Our mission is to foster customer-centricity and ensure that our customers are equipped to face the future. These are some of the great companies we are privileged to work with: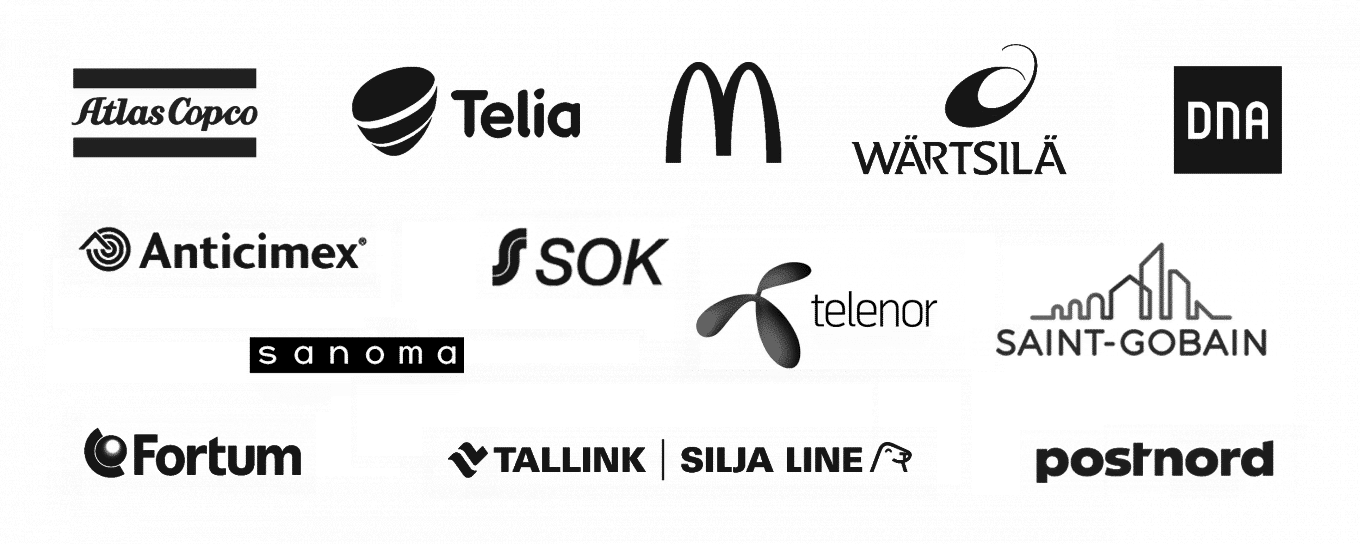 "I am exceptionally pleased with the relationship with Avaus. They have been and continue to be a great partner. In the start of the project Avaus wasn't afraid of setting the right expectations and they delivered beyond expectations. I would recommend Avaus whole heartedly and I have never been happier with a consultant."
Philip Hagenfeldt, Customer Service Manager, Mathem and Fruktbudet
"Avaus has helped us to define our digital customer experience, what is needed from technical perspective to deliver it, and how we could improve our processes and  way-of-working.   The team was able to deliver the multi-dimensional project involving deep technical and data insights as well as a solid business understanding on a very tight schedule. The cooperation with Avaus was interactive, insightful, and professional, making it easy to recommend Avaus for similar digital CX engagements."
David Meneghello, VP Strategy and Marketing, Telia Finland
"Working with Avaus has been agile and flexible. Cooperation, communication and business understanding have evolved year by year on both sides and in a rewarding spirit. Avaus has often found skilled resources for a specific development idea quickly and flexibly. With Avaus, DNA is one of the pioneers in its field of digital and multichannel marketing with personalised and automatised solutions. Combining DNA's award-winning analytics environment with the multichannel and timely communication built with the help of Avaus is one of the success factors of our customer experience and satisfaction."
Tuomo Kokkarinen, Head Of Department, Data and Visualization at DNA Oyj
DATA & ANALYTICS
Optimising assortment and promotions
Avaus implemented an end to end solution for customer centric category management. The solution included advanced analytics models, as well as the tools for utilizing the insights and bring business value. The main benefits of the solution were optimizing the assortment and promotional activities, saving cost and driving profitable customer behavior with the same resources.
Full case here
GROWTH TEAM, MARKETO
Optimised lead management process
The client did not have the marketing technologies to effectively and efficiently manage the lead process from marketing to sales. To justify and validate the business case for the marketing automation investment, they needed to ensure the business targets were met by actively improving the lead management process and grow conversion on meetings booked. Avaus helped with skills and resources to secure the proof-of-concept with Marketo and turn it into a business driving success case.
Full case here
STRATEGY
Strategy for 1:1 marketing
The client, a Nordic leader in the telecommunications industry, had challenges conveying their customer experience to a clear journey, due to siloed sales and marketing efforts and different technical solutions. To give the customer experience an uplift, Avaus helped the client define a clear target state for the tech backbone and way of working, which created a clear roadmap and a future-proofed vision towards algorithmic one-to-one communication and AI.
Full case here
MARKETO
Global roll-out of Marketing Automation
Atlas Copco struggled to show marketing impact on the sales pipeline and wanted to ramp up internal digital capabilities. Avaus was chosen as the strategic partner to implement marketing automation, integrate the marketing automation platform with the current tech stack and onboard and enable a total of 24 markets globally. The client learned that sales and marketing alignment is crucial for successful digital engagement.
Full case here
CREATIVE
Creative Concept for ABB Marine & Ports
ABB Marine Ports & Service was looking a partner that could recreate and give meaning to their new value proposition "People to the Power of Electric Digital and Connected." The concept was to create distinctiveness from competitors, and eventually bring sales qualified leads. The deliverables consisted of online marketing displays and a film.
Full case here
MARKETO, STRATEGY, GROWTH HACKING
Hacking Growth at Anticimex: Results within weeks
The client was aware that future-proofing both marketing and sales was a crucial step for scaling up operations and maintaining long-term growth. Anticimex looked to Avaus for help, and a three-month pilot project was initiated to find a verified and globally scalable concept for digital marketing and sales in the German market.
Full case here
STRATEGY, ANALYTICS
Wärtsilä: Marketing Attribution for complex B2B
One of the biggest challenges B2B marketers still face is measuring marketing attribution. Long sales cycles, a vast amount of touch points and fragmented data are among the main hurdles which make it difficult to prove the effectiveness of marketing activities. As a result, a tool for predicting marketing contribution was developed to help increase customer understanding.
Full case here
SAS, MARKETO, SALESFORCE, B2B ANALYTICS
Postnord: Predictive analytics for B2B
Avaus was appointed as a strategic partner to unlock potential revenue and enable intelligent business growth for Postnord across the Nordics. This was done by developing and implementing new data driven business processes, predictive modeling for customer preferences and buying behavior and new way of working.
Full case here
STRATEGY, TECH, SALESFORCE, ANALYTICS
Digital transformation partner for McDonald's Sweden
McDonald's Sweden sought to future-proof its competitive position in the Swedish market by making digital activities a driver of sustainable business value. This required both a clear vision and major development initiatives; including a target state vision for the customer experience, a value creation mechanism, foundational upgrades to the tech stack, the setting up of a robust reporting and analytics process as well as a more agile way-of-working.
Full Case Here
STRATEGY
Digital maturity study for a premium fashion retailer
This Swedish fashion retailer has a long history and a strong brand with a substantial presence in the brick and mortar scene. However, they were losing the digital competition, which could be seen from the lack of sales growth in their online channel. Through the audit, Avaus was able to recognise the most significant pain points and offer suggestions on how to grow the client's digital channels to claim a larger share of online sales.