Case
Interflora Sweden – Increasing CLV and internal productivity with Avaus Factory
Since the early 2000s, Interflora has established itself as a global provider of gift delivery services. Customers worldwide can rely on Interflora to help them celebrate life's special moments with a diverse selection of gifts, such as flowers, plants and other thoughtful presents.
Interflora Sweden came to Avaus at a time when they had an excitingly positive problem. Like many other online based businesses hit by the pandemic, their customer base grew significantly. People wanted to shower their loved ones in care and Interflora needed to retain these newly acquired customers post-pandemic. Simultaneously, increased competition challenged Interflora to find more future-proofed and scalable methods to drive customer lifetime value.
Key challenges
Questions at the start of the project:
What type of results can be expected from utilising data and automation in marketing and sales?

How to increase customer lifetime value through improving buying frequency and cross-sell?

How to use data to become more effective in customer acquisition in paid media?

How to automate current manual processes to free up time for more productive work?
Implemented solution
Avaus Factory to systematically utilise data and automation to improve customer lifetime value and internal productivity:
Clarify business value driver priorities and set a concrete strategy for execution:

Prioritising business value drivers, such as improved customer acquisition and buying frequency

Designing strategies and use cases to impact prioritised value drivers

Creating an actionable implementation plan and roadmap on how data and automation can be used across channels
Establish a solid and scalable customer data capability on Google Cloud Platform:

Data: Combining three data sources (i.e. web analytics, enterprise resource planning and marketing automation)
Algo: Forming foundational customer segmentations and machine learning models for the prioritised use cases, such as new and existing customer segments, RFM model (i.e. recency, frequency, monetary value), customer lifetime value model, probability to convert, probability to return and churn models
Action: Enabling marketing and sales strategy activation in display, search engine marketing, Facebook, email and SMS channels
Implement a portfolio of automated marketing and sales use cases across channels:

Example of use cases focused on customer acquisition: Data-driven retargeting, abandoned cart, exclusions in search engine marketing campaigns and customer lifetime value based lookalike audiences
Example of use cases focused on customer lifetime value: Cross-sell program towards loyalists, cross-sell based on buying recency and use case to increase conversion from 1st to 2nd purchase
The strategy formulation, customer data capability and first use cases were live within weeks with the help of Avaus Factory best-practice methodologies and assets, such as:
Use case library with best-practice strategies to impact a variety of business value drivers

Standardised way of working to remove inefficiencies

Technical assets to accelerate the implementation of customer data capability

Cross-competence team of experts to quickly move from planning to implementation
The Avaus Factory team consisted of cross-competence talent across the Data-Algo-Action value chain: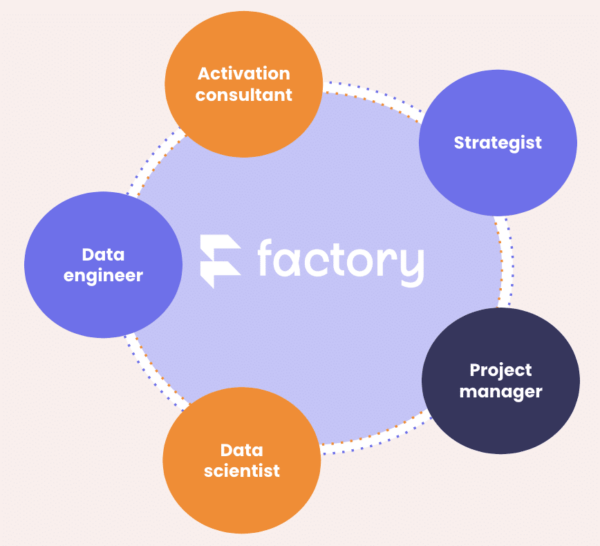 One of the success factors in Avaus Factory, is its ability to facilitate and bring together different subject matter experts from marketing and sales to machine learning and data engineering. This allows for fast development cycles, ultimately resulting in faster value realisation of investments.
"We have never worked this data and customer insights driven before. Avaus' ability to both solve the technical and data related challenges, and to facilitate and translate their knowledge to our entire marketing and e-commerce team, broke down silos we had between channels." 
– Louise Blomstrand, Head of Marketing and E-commerce at Interflora Sweden
Results
Significant improvements in customer lifetime value through more effective customer acquisition, increase in average purchase size and buying frequency. In addition, manual processes, such as product feed management, were automated, enabling the marketing team to save several hours a week. 
The business impact of the entire data-driven use case portfolio was monitored on a monthly basis, measuring the revenue uplift it created and how the value of the portfolio developed over time. Here is an illustration of the business impact reporting: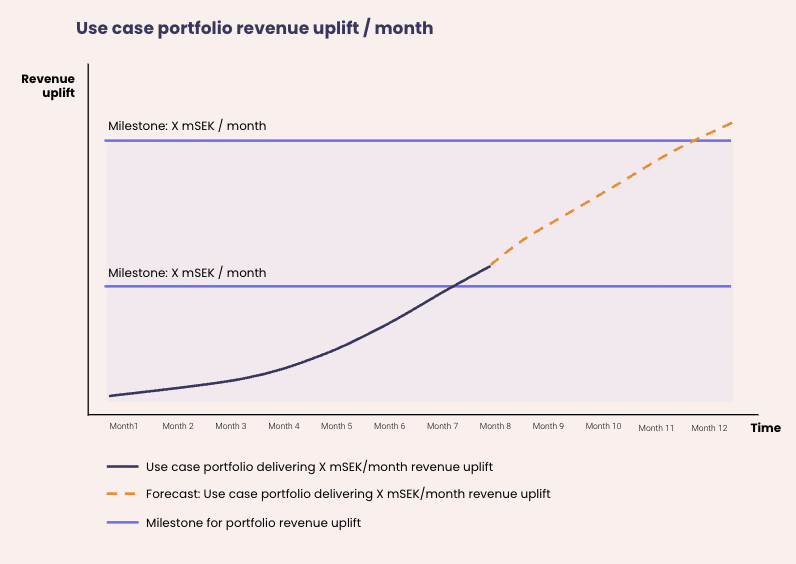 As an overall result, Interflora now has a capability and structure that allows them to effectively automate data-driven strategies that:
Increase the number of customers

Reduce customer acquisition costs

Increase the purchase frequency

Increase average order value
-32% Cost per acquisition
+22% Increase in frequency