Unlocking growth potential and creating results
In today's Telco landscape, being more targeted and customer-centric is crucial for brand differentiation and customer loyalty. Through the use of data automation and algorithms, our Telco clients have been able to:
Increase customer lifetime value (CLV)
Boost average revenue per user (ARPU)
Optimize the cost of sales
Reduce the cost to serve
"Avaus methodologies have simplified our work and made us more effective while scaling our CVM efforts – this year we have achieved our target automation for the first 6 months already by mid March"
Head of Data & Analytics IT
"Working with Avaus brought the right experts, focused on my specific niche (CVM and personalization) in a very flexible way – from technical to strategic work"
Chief Digital & Analytics Officer
"We have always thought that you need to source full-time experts from our partners – which is very inefficient. Avaus focuses on outcomes, with flexible use of the needed expert resources, which has proven to be a much better approach for success"
Head of Data & Analytics
Avaus Cookbook:
AI in Marketing & Sales for Telco
Download the Cookbook to discover
easy-to-implement recipes to:
Identify high potential prospects
Automate the management of the customer
"long tail"
Use Machine Learning models for personalised offers, timing, messages, and channels
Proactively activate customers at risk of churning
Automate upsell of value added offerings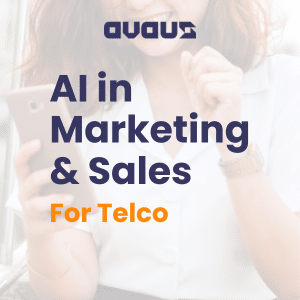 The Cookbook is your pragmatic guide, filled with powerful use cases to help you tap into the full potential of data and automation.
Results created for our Telco clients
Examples of results generated from using data and automation in a systematic way
3x save rate on pre-terminated subscriptions
50% mitigated churn on subscriptions going out-of-binding
43% of time savings generated via automated event management processes
69% reduction in incoming calls to the service center from new customers
95% time savings by automating recurring telesales target group processes
Capabilities we typically help Telco organizations create
Customer databases for marketing, sales and service
Tech backbones for omni channel orchestration
Impact and attribution reporting (across channels)
Data-driven and customer-centric operating models
Content Automation –
Your key building block for personalisation: 4 highlights from the event
Did you miss out on the content automation seminar? Don't worry, here are 4 highlights that you should keep in mind.
Avaus Tactics Gallery: The Analytics Edition
An easy-to-digest overview of analytical capabilities, models and approaches, to understand what tactic to use and when.
Avaus' methodology can help you
Automate manual processes
Break down departmental silos
Implement up to 50 use cases each year
Systematically expand into more channels
Improve efficiency by deploying needed capabilities
Continuously monitor incremental impact and ROI
Sounds interesting?
Contact us and get a deep dive into your company's situation.