Developments in digital technology and shifts in buying behaviors are putting pressure on manufacturing companies to evolve the way in which they go to market.
To support this, Avaus helps marketing, sales and service teams make practical use of data, automation and AI to:
Increase sales efficiency
Improve buyer and user experiences
Capture more aftermarket potential
Sell more through self-service channels
Increase sales of value-added services
Become customer centric and data-driven
"Our partnership with Avaus goes way beyond the usual consultancy advice: they are a big support piece of our day-to-day activities. They have a bright and tech-savvy team that is not afraid of hands-on implementation, so whether the task of the day requires coding, graphical design or strategic planning, they can do it and do it well.
What I appreciate most – they learn real fast, so they can digest complex value propositions quickly and start to produce results."
Jaime Lopez
Manager, Sales Enablement & Development
Wärtsilä Marine Business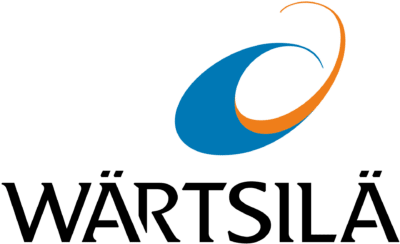 Avaus' Cookbook: AI in Marketing & Sales for Manufacturing
Guidelines for how to use data, automation and AI to:
Identify high potential prospects
Automate sales of parts and accessories
Promote services to equipment customers
Remind customers to replace equipment
Make sure service contracts are renewed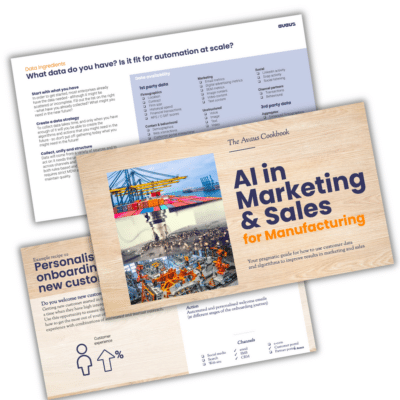 Download the Cookbook for how to use data and AI in Sales & Marketing!
Marketing attribution in complex B2B
We helped Wärtsilä develop a tool for predicting marketing contribution and customer touchpoints using attribution modeling, resulting in improved measurement of marketing activities and – impact
Creating a marketing data vision in 5 weeks
We applied a hypothesis-driven approach to help Outokumpu develop an ambitious but yet pragmatic vision for how to use marketing data as well as target capabilities and a roadmap for the next 3 years
Global marketing automation roll-out
We helped Atlas Copco increase marketing efficiency, align sales and marketing as well as apply data-driven approaches to revenue growth
Results
Examples of outcomes our Manufacturing clients have generated with the use of data:
20% increase in sales efficiency
40% of sales pipeline from marketing
x3.45 more profit per € spent on marketing
M€550 in marketing-supported pipeline
83% sales increase of value-added services
40% growth from self-service channels
Capabilities
To unlock the power of data we help with:
Growth strategy development
Customer and audience segmentation
Technology for omni-channel orchestration
Advanced analytics for marketing and sales
Data- & customer-centric operating models
Accelerate the Use of Data, AI and Automation in B2B Sales & Marketing
Guide on how you can move forward and tap into automation and AI to improve customer experience and boost sales results
The B2B Marketing Tactics Blueprint
Avaus' practical guide on how to use data to improve effectiveness and efficiency in B2B marketing
Content Automation – A key building block for personalization
Use the power of data and automation to be more targeted and relevant to buyers in the right channels at the right time
Avaus' approach helps you
Automate manual processes
Break down departmental silos
Implement up to 50 use cases each year
Systematically expand into more channels
Improve efficiency by deploying needed capabilities
Continuously monitor incremental impact and ROI
Sounds interesting?
Contact us and get a deep dive into your company's situation