Creating measurable business outcomes
The rise of first party data, regulatory changes and evolving customer behavior are demanding data-driven strategies, personalisation and automation at scale to drive profitable growth and find new sources of revenue.
With media clients we are solving business critical challenges like:
Reducing customer churn

Growing customer lifetime value (CLV)

Transitioning sales & service to digital channels 

Driving higher automation in marketing, sales and service

Developing omni-channel customer experience

Becoming customer centric and data-driven
"Avaus has been a transformational partner with us, ensuring we focus on the right things, manage needed change in our organization and capabilities and create measurable business outcomes"
VP, Digital business
"With Avaus we have been able to create a strategic development roadmap for a long-term period, that is based on quantified business potential and concrete use cases"
VP, Consumer business
"Avaus helped us envision how we can radically increase the productivity and efficiency of our media sales organization, by having more customer-centered processes, using data and automation in a better way and having a crystallized customer strategy and segmentation in place"
Chief Sales Officer
Avaus Cookbook:
AI in Marketing & Sales for Media
Download the Cookbook to discover
easy-to-implement recipes to:
Target "twins" of loyal customers for
more effective acquisition
Convert prospects in trial period to ongoing customers
Support your customer service with Next Best Offer (NBO) suggestion models
Automatically react to changes in users engagement levels
Prevent churn with "vaccination" actions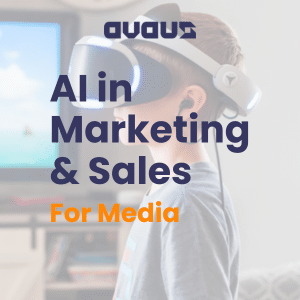 The Cookbook is your pragmatic guide, filled with powerful use cases to help you tap into the full potential of data and automation.
Results created for our Media clients
Examples of results generated from using data and automation in a systematic way:
2% reduction in churn rate
2MEUR revenue increase through personalized cross-sales activities
15% improvement in online conversions
+100 automated customer journeys built
30% decrease in sales headcount for SMB sales with retained sales output
Capabilities we typically help Media organizations create
Technology backbones that enable omni-channel orchestration
Customer databases set up for marketing, sales and service
Leveraging AI and automation to increase efficiency
Impact and attribution reporting for marketing and sales (across channels)
Operating models set up to promote a data-driven and customer-centric culture
Accelerate the Use of Data, AI and Automation in B2B Sales & Marketing
Are you a Sales, Marketing or Data & Analytics leader in a B2B organisation? Are you looking to tap into automation and artificial intelligence to improve customer experience and boost sales results? In this blog post, we'll look at the benefits of applying automation and AI in sales and marketing, blockers for getting started.
The B2B Marketing Tactics Blueprint
Avaus' practical guide on how to use data to improve effectiveness and efficiency in B2B marketing
Content Automation –
Your key building block for personalisation: 4 highlights from the event
Did you miss out on the content automation seminar? Don't worry, here are 4 highlights that you should keep in mind.
Avaus' methodology can help you
Automate manual processes
Break down departmental silos
Implement up to 50 use cases each year
Systematically expand into more channels
Improve efficiency by deploying needed capabilities
Continuously monitor incremental impact and ROI
Sounds interesting?
Contact us and get a deep dive into your company's situation.