Elevating customer experiences and unlocking your growth potential 
In today's retail landscape, providing personalized experiences to customers is crucial for brand differentiation and loyalty. Through the use of automation and algorithms, our Retail clients have been able to:

Increase purchase frequency 

Increase basket size

Improve sales margins

Improve customer experience & retention 

Optimise product categories     

Become customer centric and data-driven 

"We have never worked this data and customer insights driven before. Avaus' ability to both solve the technical and data related challenges, and to facilitate and translate their knowledge to our entire marketing and e-commerce team, broke down silos we had between channels."
Louisa Blomstrand, Interflora
Head of Marketing and Ecommerce
Avaus Cookbook:
AI in Marketing & Sales for Retail
Download the Cookbook to discover
easy-to-implement recipes to:
Promote personalised inspirational content based on purchase history to drive loyalty
Target "twins" of loyal customers for
more effective acquisition
Promote premium offerings within
product categories
Increase customers' basket size with product recommendations
Capture the full potential of your customers with personalised top offer recommendations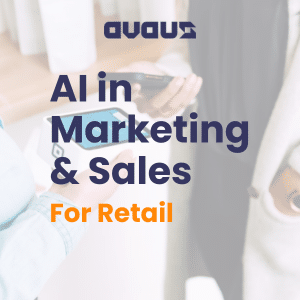 The Cookbook is your pragmatic guide, filled with powerful use cases to help you tap into the full potential of data and automation.
Results created for our Retail clients
Examples of results generated from using data and automation in a systematic way
32% reduction in cost per acquisition (CPA)
5% uplift in average weekly basket size (grocery retail case)
22% increase in purchase frequency
800% increase in coupon redemption
5x increased conversion rate using algorithmically defined audiences
100% conversion improvement from algorithmic personalisation (email CTO / CTR)
Capabilities we help our Retail clients establish
Customer databases for marketing, sales and service
Tech backbones that enable omni-channel orchestration
Impact and attribution reporting for marketing and sales
Data-driven and customer-centric operating models
Automate at Scale – While Keeping Your Team Sane
There is a challenge ahead for all Nordic and European companies to re-invent themselves for the age of AI to be able to sustain a competitive advantage in their local market. Becoming data-driven is a key priority across industries as it is the most effective approach to grow top-line and improve efficiency.
4 highlights from the event Content Automation – Your key building block for personalisation.
Did you miss out on the content automation seminar? Don't worry, here are 4 highlights that you should keep in mind.
Preparing for the future – How ICA is driving digital development
Avaus' methodology can help you
Automate manual processes
Break down departmental silos
Implement up to 50 use cases each year
Systematically expand into more channels
Improve efficiency by deploying needed capabilities
Continuously monitor incremental impact and ROI
Sounds interesting?
Contact us and get a deep dive into your company's situation.