Contact centre calls or inbound messages typically cost between 10-20€ each and represent a substantial cost in many industries. In this blog, you will find 8 ways that data and automation can save you money in customer service, while at the same time improving your customer experience – after all, the best customer service interaction is often the one you never had. 
Most companies today have taken care of the basics in customer care – implementing a service handling platform, like Salesforce Service Cloud, Zendesk or similar for routing, assigning and managing service requests. You might have invested in more advanced call routing technologies such as Genesys. These platforms enable significant improvement of request management efficiency.  Service forums, chatbots and FAQs are methods for reducing incoming calls by letting customers find the answers themselves. But could you do even more with what you already have in place today?
Do you have a hidden treasure in your customer care data?
Customer care data is likely the richest data about your customers that you have. Examples of data that you are collecting but aren't using can be seen in the table below. The more data you have, the better your predictions will be – and by combining many sources over time, you will gain better customer insights.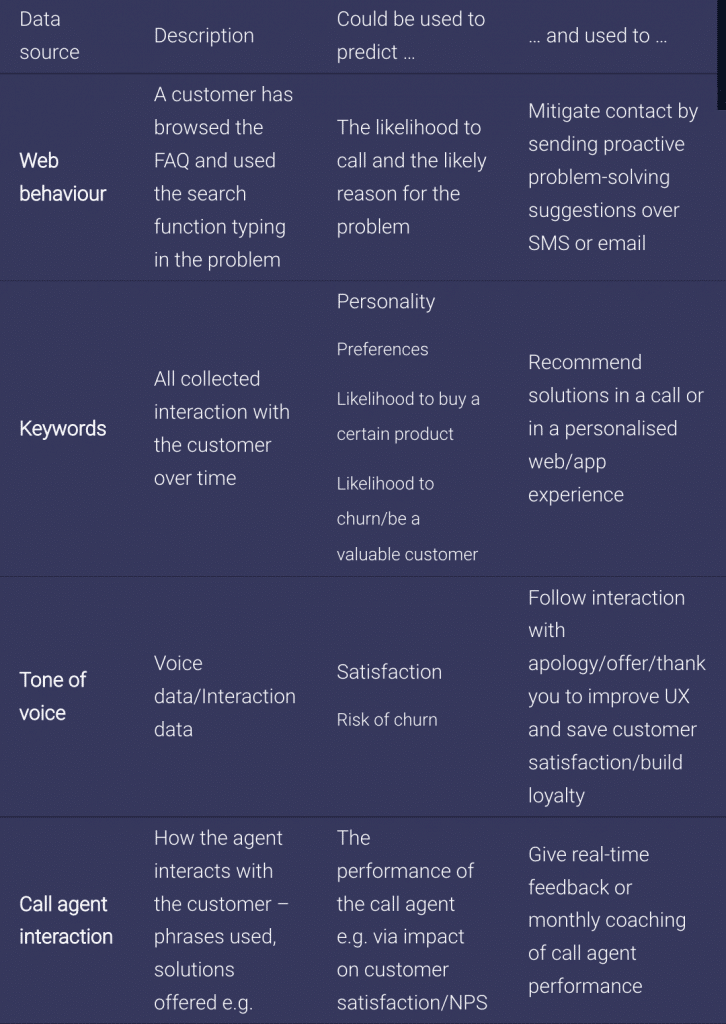 Do I need to build a huge data lake?
No – that would be the biggest mistake. This is where many enterprises are getting lost in long and costly projects with uncertain outcomes. At Avaus, we recommend a "slice by slice" approach to develop data-driven customised processes. Focus on only a few data sources, create an end to end solution. We call it the data-algo-action approach, as described in our AI Cookbook for Marketing & Sales. Any of these use cases can be developed with a very light technical setup, to verify the approach before you invest more.  
The most typical use cases for reducing cost in customer care
Reduce incoming calls
1. Vaccination activities
By predicting the likelihood of customer care being contacted, and the likelihood of the topic, preventive actions can be taken, such as sending an email or SMS asking "do you have issues with your payment"
2. Personalise the website with call deflection strategies
When an identified customer is entering your web or app, and you know it is likely that they are going to call – make sure to personalise for call deflection. A few typical examples could be: 
Insurance – If a customer has an active claims process → Claim status? Check where your claim is by logging in.
Telco – If a customer has unpaid bills/just received an invoice → Questions around your invoice? See typical questions and answers here!

Decrease time spent on customer care 
1. Improve First Call Resolution (FCR) by routing calls correctly 
Recognise who's calling, and connect to the information of the likely problem. You will be able to route the call/message to the agent with the right skillset on the first try. 
2. Shorten call times with recommended actions
When you either know beforehand what the problem is likely to be or if you recognise it from keywords in the speech – AI can do that fairly easily for you today – your service agent can be prompted with the right scripts and resolve issues faster. 
Improve call quality
1. Spending time on the right customers 
A highly valued customer should likely not be treated at speed or by an inexperienced rep. Based on your customer segmentation, decision support for agents should be given "take your time!" or "strive for fast resolution".
2.  Replicating your best agents with digital coaching
By analysing what the best customer care agents are doing differently, you can give real-time feedback to reps, based on performance –  "high performing reps use first names when addressing the customer – try it out!".  
Use the opportunity to cross- and upsell based on likely needs
1. Next best action
When you have already invested high-value customer care on your customer – it's worth turning it into a sales opportunity. Knowing who to sell to should determine how this is done – all customers are not likely to buy and that will have been a waste of time and effort. With a Next Best Action model telling you whether you should sell, serve or retain the particular customer gives customer care reps a "sixth sense" for making the right move. 
2. Next best offer
If the customer is susceptible to sales, knowing what to sell makes in-call conversion more likely. With a Next Best Offer model, the most likely product to fit the needs of the client is recommended to the customer care agent as a suggestion to the customer. 
These are some of the "easy wins" for driving efficiency with data, intelligence and automation in customer care. The key to success is scaling up and automating as many "efficiency" drivers as is viable (positive ROI on development). 
To hear more about our approach for driving efficiency and cost reduction in customer care, don't hesitate to reach out. You can also read more about the Data-Algo-Action framework in our Avaus Cookbook: AI in Marketing & Sales.
Written by Emma Storbacka