A recent study by Avaus Marketing Innovations Oy reveals that Finland is a leading developer of marketing technologies (Martech). With 120 identified martech companies headquartered in Finland, the country has twice as many martech companies per capita as the US. The author of the study, Henri Syvänen admits that the findings came as a surprise to himself as well as his colleagues at Avaus.
The leading martech analyst, Scott Brinker has identified thousands of martech companies in his Marketing Technology Landscape Supergraphic model. Based on Brinker's model, Avaus has created a miniature landscape of the Finnish technologies.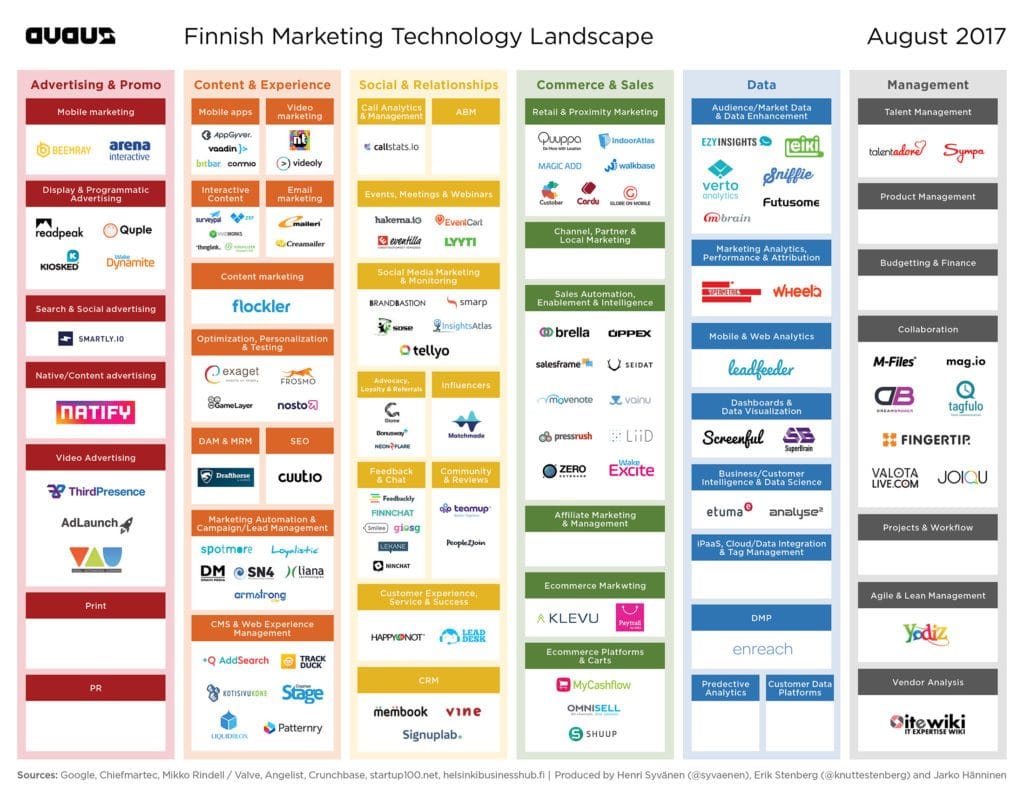 In the US there are 11 martech companies per one million inhabitants. The Finnish equivalent is 21, nearly twice as many. "This is news to me," Scott Brinker comments. "The vibrant Finnish martech landscape has, until now been well hidden from the world. I only had 13 Finnish companies in my last landscape."
Of those 120 Finnish martech companies, roughly a third have received average funding of $5,7 million. None of the Finnish companies has so far grown to enterprise levels with head counts surpassing 1000. Nevertheless, the diversity of the companies testifies to a major leap in Finnish marketing technology skills. Syvänen's analysis also revealed that 45 percent of the companies had ex-Nokia employees in key roles.
Read the article by Henri Syvänen here
Contact us