Demands are higher than ever for enhanced sales automation and better, AI enabled B2B customer experiences at scale. Many sales leaders still struggle to scale up their digital capabilities while Covid-19 induced restrictions on FtoF meetings,  travel, physical events and seem to extend to a second year. Financial pressures on B2B sales organisations efficiency will continue to increase.
Customer buying preferences started to change long before the pandemic, but the shutdown of all things physical have put companies with poor digital sales capabilities in dire straits. The good-to-have digital sales tools became must-have, mission critical business infrastructure overnight.
The sales model needs an overhaul
Customers perceive less value of sales reps than ever before, while rewarding rich digital buying experiences. B2C platforms are the benchmarks today, not your B2B competition. Close to a half of millennial buyers prefer no sales rep interaction at all, the average being a third. In 2025 four fifths of B2B sales interactions will occur in digital channels. Ultimately, the breakdown of the traditional sales model is driven by the digital shift in industrial buying, dramatically speeded up by social distancing of vendors and clients.
While sales reps are managed with training, activity metrics and financial incentives, digital buying is managed with data and automation. The transformation from a human industrial relations driven sales model to a process driven digital engagement model, is permanent. In many B2B organisations, the transformation journey has hardly begun.
Only a few organisations are excelling in the capture, organisation and utilisation of customer behavioural data. Increased digital buying means more data and winning B2B organisations will become heavily reliant on critical real-time insights of where the customers are and what they are looking for and when they are willing to engage.
The things you need to master: Automation, Digital First and AI
Near future sales strategies will be different and the resources that are used will increasingly be based on new technologies, utilising new sources and forms of data. Meanwhile, the transformation has shifted the focus from the seller, to the buyer. 
These are the three key capabilities for building the B2B sales organisation of the near future: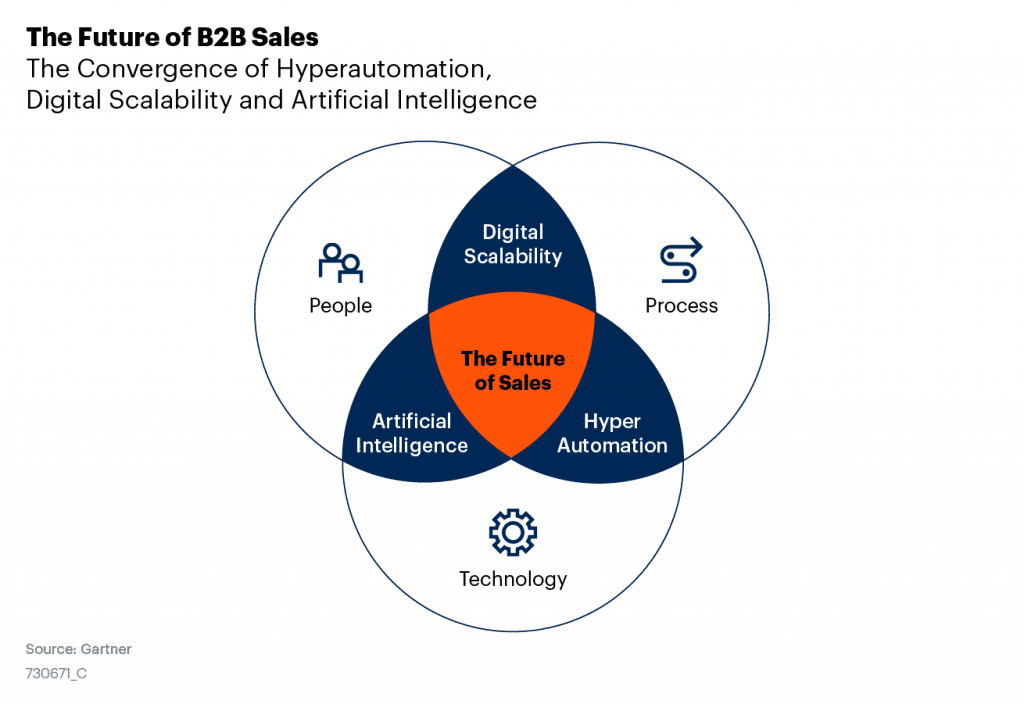 Source: The Future of Sales in 2025: A Gartner Trend Insight Report
Hyperautomation –

As digital engagements occur in multiple channels by prospect and buyers during all stages of the buying cycle, no human organisation will be able to respond adequately. The work is done by a wide array of automated sales tech tools that automate and augment the digital sales processes.
Digital first – The role of sales reps have to be adjusted to correspond to the digital first reality. They will need new skills to master both digital tools and data. FtoF will transform from the default sales channel to a selectively used tool for highly qualified customer encounters. Sales operatives will increasingly work in roles related to the development of digital sales processes and assets. They will become digital co-sellers using websites, portals, ecommerce platforms and virtual assistants. Data and tech savvy digital-first sellers can manage a customer reach previously possible only for marketers with access to media and research.

Data, analytics and Artificial intelligence –

Data and sales tech tools enable

automated, algorithmic decisions. Managing sales processes in different channels will heavily depend on the deployment of AI based tools. Traditional, headcount based B2B sales development top-line contributions were highly linear – incremental headcount investments produced incremental sales growth. Gains from automated decisions and engagements are exponential and not restrained by additional resources, only by the quality of their data and algorithms. Data and automation capabilities will single out the winners from the losers within 5-10 years.
The future is not only about implementing B2B e-commerce platforms and guided selling with the help of a growing array of smart sales tech tools. Fundamentally it is about redefining the entire omnichannel sales process. Most B2B leaders still seem to prefer a step-by-step approach, focusing on one building block at the time – such as  your ecommerce platform. Many are still struggling to implement CRM across multiple businesses and geographies. But we argue that you cannot wait – you need to advance in all key areas.
Watch the Avaus Expert Talks 2021 webinar to hear our take on how to address these topics and take your sales process to Sales 4.0. If this topic is of further interest, why not sign up your organisation to the Sales 4.0 Multiclient study starting in April 2021?