This newsletter features our mid-term recommendations about how to improve marketing efficiency in times of slimmer budgets in the aftermath of Covid-19. Oscar Jäderberg demonstrates how to get the most out of your marketing investments by using Machine Learning to improve your campaign performance in Google and Facebook. Teemu Relander, who recently returned to Avaus, takes you on a 10 step journey, describing how to build a world-class data-asset for multichannel engagement. 
Watch actionable marketing data-asset: Avaus Data Factory
How to use Machine Learning to Optimise Campaigns in Google & Facebook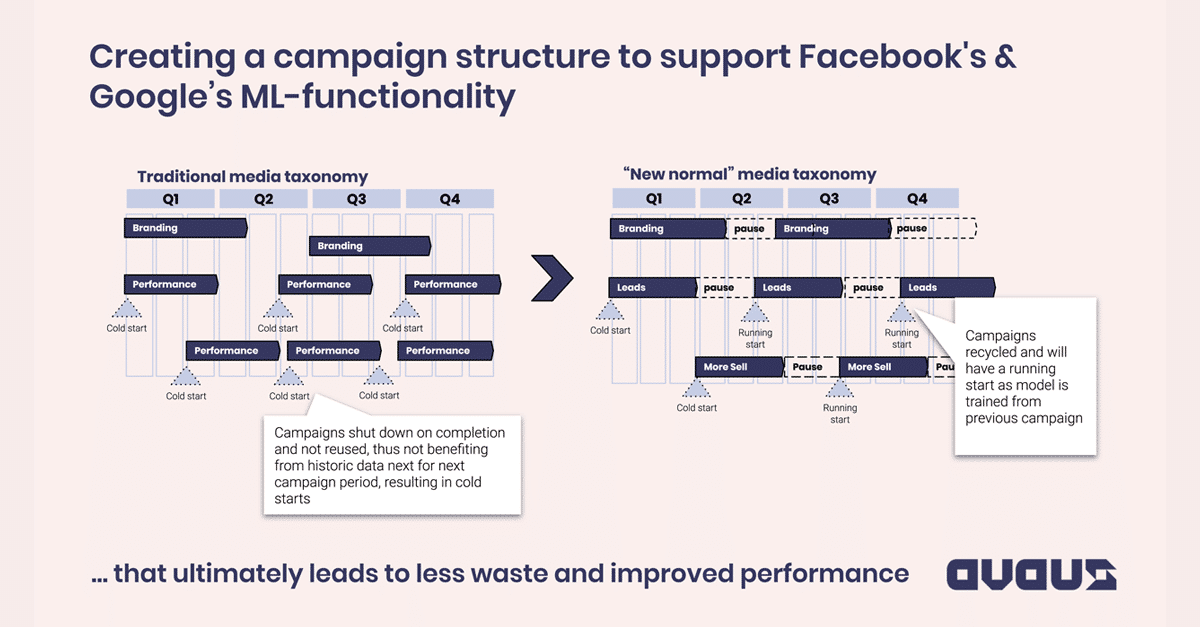 Many marketers now have to focus on marketing efficiency and how to get more bang for lesser bucks. Oscar Jäderberg describes in his 2nd blog how to build an efficient campaign model that enables you to achieve significantly more with your present Google and Facebook budgets. In this sequel to a previous post, Oscar is going deeper into the subject, offering actionable insight on how you could structure for efficiency in your digital media buying.
Keep reading
Ten Steps for Building a Data Engine to Drive your Multi-Channel Engagement

Here we present 10 building blocks for how to create a data-asset needed for high-performance sales, marketing and customer experience. The key is to build a simple and solid foundation that is both scalable and can handle future complexity demands. A data-asset is the engine for timely relevant, personalised, multi-channel and cost-efficient sales, marketing and customer experience optimisation. 
You start with a solid privacy framework. Then you build an inventory that includes all your current activities and your envisioned future ones. Simple use cases usually deliver the most business value, so you should go on until you run out of them. Only then you start to increase the complexity level. 
Keep reading
Webinar: Avaus Data Factory – Building an Actionable Marketing Data-Asset

We hosted a webinar where Teemu Relander and Oscar Jäderberg discussed a topic that is certainly on many CMOs and CDOs agenda, how to enable the activation of the various data sets across the organisation. Following the latest industry trends, there are already many lakes of data in companies, but from a sales, marketing and customer experience optimisation perspective you might run into the following questions:
How

actionable are these data sets

to truly create customer-facing communications?

Do they reveal besides static customer information anything about their

future intents

?

Can all the data be used from a compliance perspective for creating activities? Do you have

required consents

in place?
These and many other questions were discussed in more detail as part of explaining a Playbook put together by Avaus to build actionable marketing data-assets, or to use a more simplified terminology – Data Factory. 
Watch the full webinar on demand to learn more about the Avaus way of approaching ways to ensure our customers keep up with the competition:
Watch actionable marketing data-asset: Avaus Data Factory