Salesforce recently introduced Loyalty Management: A new standalone product that can be integrated into any ecosystem that you may have in place today. Loyalty Management empowers your organisation to create personalised and intelligent engagements for customers across industries, powering positive ROI and increasing customer lifetime value (CLV). In this blog we take a quick look at the business case of loyalty programs in general and the capabilities of Salesforce Loyalty Management.
Customer loyalty is far from a new concept, but the drivers have fundamentally changed since the rise of the pandemic. Customers in both B2C and B2B have quickly adopted the new digital landscape where expectations are high and switching vendors is just a click away. So how do you retain your customers? Here is what you need to know.
Why is a Customer Loyalty Program Important?
Loyalty programs are effective tools to encourage your customers to stay in business with you. By rewarding customers with personalised rewards and exclusive benefits for their interactions or purchases with your business, they have an incentive to return and claim those rewards. With an effective customer loyalty program in place, members will return to make additional purchases to get even more rewards, and are also more likely to become brand advocates because of the positive purchase experience your customer loyalty program provides. These brand evangelists essentially become your extended marketing squad that will drive referral traffic through word of mouth. Above all, what is better than a customer spending money? 
A customer generating it.
According to Salesforces' marketing report in 2019, "63% of high-performing marketers are already using loyalty program platforms."
However, setting up and managing a loyalty program can be challenging since most companies today rely on fragmented and outdated technologies that fail to deliver integrated experiences. Additionally, these solutions are often unable to evolve with industry trends, such as the shift from point-based rewards programs to exclusive products and experiences. 
To bring these pieces together and help drive more meaningful customer loyalty experiences, Salesforce recently introduced Loyalty Management: a new product that allows your business to create effective and engaging loyalty programs while powering a positive ROI.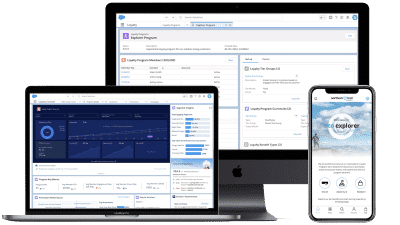 Create revenue-generating loyalty programs and increase customer satisfaction from a 360-degree member view with Salesforce Loyalty Management.
Loyalty through connected and differentiated experiences
Built on the Salesforce Customer 360 Platform, Loyalty Management allows your business to build and customise intelligent loyalty programs with clicks, not code, enabling flexibility and quick deployment to fit the specific needs of both B2C and B2B customers across industries. Without going into too much detail, let's take a look at the business capabilities of Loyalty Management. 
A flexible end-to-end platform
Loyalty Management gives you complete flexibility to configure loyalty programs that fit your needs regardless of industry. The user interface makes it easy to set up programs, benefits, tiers and currencies. As your unique needs change over time, the platform enables you to scale with your business. 
Accelerate time to value with personalised loyalty offerings
Loyalty Management will also allow you to pull in your customer data in one place – including purchase history, marketing interactions and website visits – to create a unified view of your customer. This will enable you to target different segments of your member base with customised and personalised offerings to make them feel unique. For example, a B2B manufacturer can reward a customer for attending a product training or webinar. 
Generate loyalty with a single source of truth

 
This unified customer view becomes possible since Loyalty Management is integrated with Salesforce Digital 360, Service Cloud and Tableau. You can also easily integrate external systems, like a Customer Data Platform (CDP), with integration-ready APIs to connect Loyalty Management to your tech stack. For example, a retailer can enhance their Loyalty Management program by using geolocation-based notifications for when a customer is near a store. Altogether, this enables a holistic view of your customer data and a single source of truth where the loyalty experience can be connected across the entire organisation. 
Measure and track the ROI of your loyalty program
With Tableau CRM for Loyalty Management* you can measure the performance of your program, promotions, track engagement and member acquisition in a simple dashboard. Based on real-time data, Loyalty Management will also allow your business to adjust programs and paths forward as the customer and business needs change over time. For example, an e-commerce store can identify when their members stop using their points and offer new incentives to cash in points.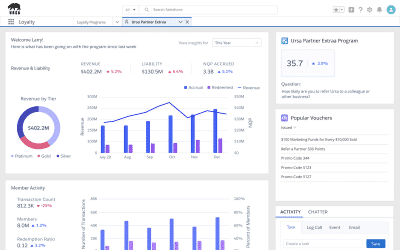 Measure program performance, engagement and member acquisition in a dashboard with Tableau CRM for Loyalty Management. *Requires additional license. 
Do you need some business advice from our experts at Avaus?
Loyalty Management is a standalone product that can be integrated with whatever ecosystem that you have in place today. Unlock the expertise in key topics like Loyalty Management, grow digital sales, and altogether make your business more data-driven. Our experts at Avaus are happy to help you get started! If you are interested in learning more feel free to click in the chat box and write to us. We will contact you as soon as possible.
Interested in finding more?
Use our free, online downloadables to improve your B2B marketing & sales efficiency!
Written by Sam Lidström
Sources: