Avaus/IAB FINLAND: Media release November 5th, 2019
Marketing 2020 Survey:
Finnish CMOs are Investing Heavily in Data and Analytics
Avaus Partner Tom Nickels and IAB FInland CEO Pasi Raassina surveyed Finnish CMOs about their marketing spend 2020
Analytics, customer insights and data are the main growth areas in Finnish marketing budgets for 2020. Martech and digital content are also getting increased shares of overall budgets, according to a CMO survey by IAB Finland and Data and Martech consultancy Avaus.
Download the report
Pasi Raassina, the newly appointed CEO of IAB Finland, thinks that the results were astonishingly clear cut. "Both B2C and B2B enterprises have adopted data as a key competitive tool," says Raassina. Having said this, marketeers also openly admit that data poses their main business challenge at the moment. "There is a lot of work to do with the quality of data assets as well as making it fully actionable," says Raassina.
Marketing spend growth in Finland 2020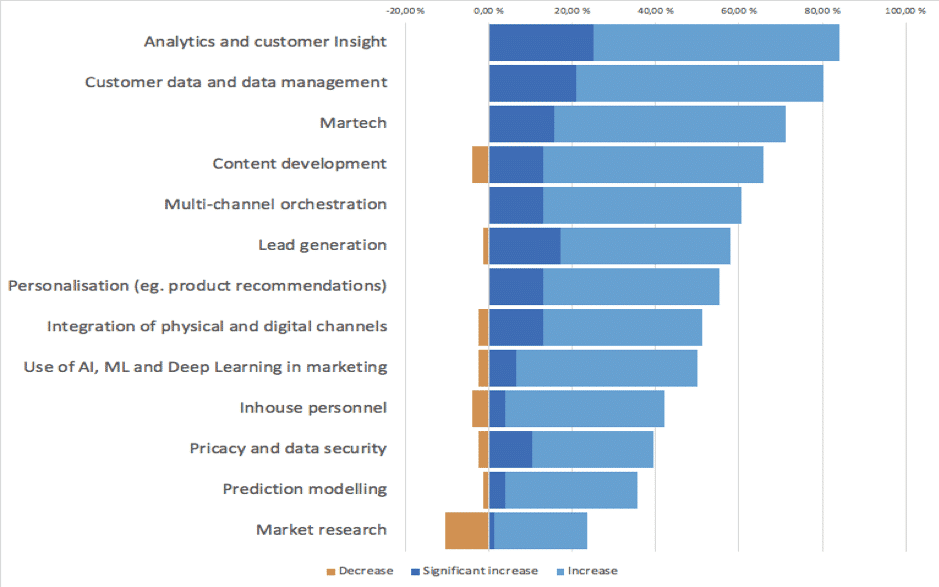 The paramount business importance of data is a combined result of the ubiquity of smartphones and the rapid adoption of marketing technologies in Finnish business. According to the survey, the martech investments that were initiated in the early 2010s will continue into the 20s. Digital owned channels, web and mobile services and applications, as well as ecommerce initiatives, will get increased funding. Overall CMOs remain optimistic, and marketing budgets are expected to grow despite macroeconomic uncertainties.
In paid media social and search, digital paid content and email will get increased shares of budgets. 
Inhousing and outsourcing are trending simultaneously
Marketing personnels have grown and will continue to do so. According to Avaus partner Tom Nickels, at the core of the inhousing trend is the drive for customer-centricity. Multi-channel customer engagement, is increasingly executed by in-house marketing teams working with large data sets, algorithms and martech . "Agency relationships have to become increasingly agile and smart," says Nickels. The best results are achieved with mixed teams that combine staff and agency expertise. "Companies need new skill sets faster than they can hire", he says. Marketeers are therefore choosing totally new partners and changing old ones faster than ever before" says Nickels.
According to the survey, companies have chosen to insource digital service development, marketing operations, content development, data management and analytics. Outsourcing is needed primarily in Social media and martech development.
Companies are re-evaluating their ways of working, particularly in digital services development, analytics, content development and martech development. This survey is based on interviews with 76 CMOs and senior executives.
Download the report
About IAB Finland: IAB Finland represents those companies, organisations and individuals working in online marketing, advertising and sales. Its members include advertisers, media agencies, creative agencies, publishers, sales houses, ad networks and service providers.
About Avaus: Avaus is a transformation partner for enterprises seeking to turn their data into intelligent business growth. Avaus has 135 experts in Data and Analytics, Customer Engagement Technologies and Growth Hacking. Avaus offices are located in Stockholm, Helsinki, Munich and Gdansk.