We are continuing our European expansion. Starting January 2023, Italian enterprises will be able to leverage Avaus' best practice assets and methodologies for accelerating data-driven transformation in marketing and sales.
The Italian Avaus venture will be headed by Piero Trivellato, who joins Avaus from leading telecom operator Telia in Sweden, where he was formerly Head of Digital & Analytics, and a member of the leadership team.
"Italian organisations have much to learn from Nordic firms about digital transformation of marketing and sales. During my 10 years in Norway and Sweden, I have had the privilege to run several transformative initiatives within customer centricity and personalization. Using the learnings from the digital forerunners in the North will be a great asset for Italian companies looking to speed up their digital transformation, and avoid repeating mistakes done by others. I am very excited to be moving back to Italy, and contributing to the digitalization of Italian businesses. I believe Avaus has some unique assets and methodologies in this domain, which will now be made available in Italy", says Piero Trivellato.
Piero Trivellato has experience from top tier consultancies and investment firms, as well as managerial positions across Europe and Asia.
"I am very happy about combining all of the methodology development we have been conducting at Avaus, with Piero's first-hand experience of leading transformation towards data-driven marketing and sales. Digitally mature enterprises have high automation levels, and maximise the value potential of their customer base by driving sales across all channels. With our combined experience, we expect to be able to cut years from the transformation journey in Italian organisations", says Emma Storbacka, Avaus Group CEO.
Avaus' 15 years of experience from increasing marketing and sales efficiency with the help of data and automation, has been packaged into replicable assets and methodologies designed to accelerate client organisations' time to value, efficiency to scale and productivity.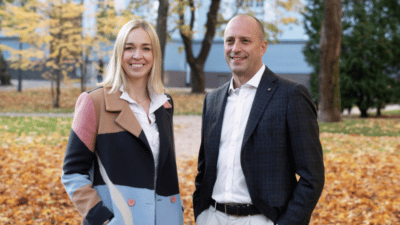 Emma Storbacka, group CEO and Piero Trivellato, Country Manager for Italy
Photo: Vanessa Forstén