Marketing automation – a term you most likely have heard. And you probably have noticed that most of the marketing automation pep talk is rife with lead generation and lead nurturing. No, there's nothing wrong with that – we've seen great results with lead generation initiatives. But in the greater scheme of things, this talk is way too focused on filling one particular gap between sales and marketing in new business acquisition (I'm guilty of this, too).
It's easy to see where this comes from – lead generation is the "easy" part of marketing automation (put simply: using call-to-actions online to get names). Furthermore, many early adopters of marketing automation come from the world of SaaS where it's natural to focus on growing your customer base. But what should be the marketing automation angle for companies in more mature industries (i.e. virtually all other industries, and especially in a country like Finland)?
In our view, customer lifecycle management as a whole is still the under-utilised side of marketing automation, but it has far greater possibilities. There are at least three reasons supporting this view:
It's easier to develop existing customer relationships than to acquire new ones (cross- and up-selling, churn management) – automation further improves the ROI of customer lifecycle management
B2B is increasingly service businesses – a greater part of revenue comes from on-going services to existing customers
Internet of Things will merge with marketing automation – taking automation to the next level
It's also about changing perspective – customer lifecycle management puts the customers in the middle, whereas lead generation (or inbound marketing) easily views the customer from the point of view of the company, or their sales funnel.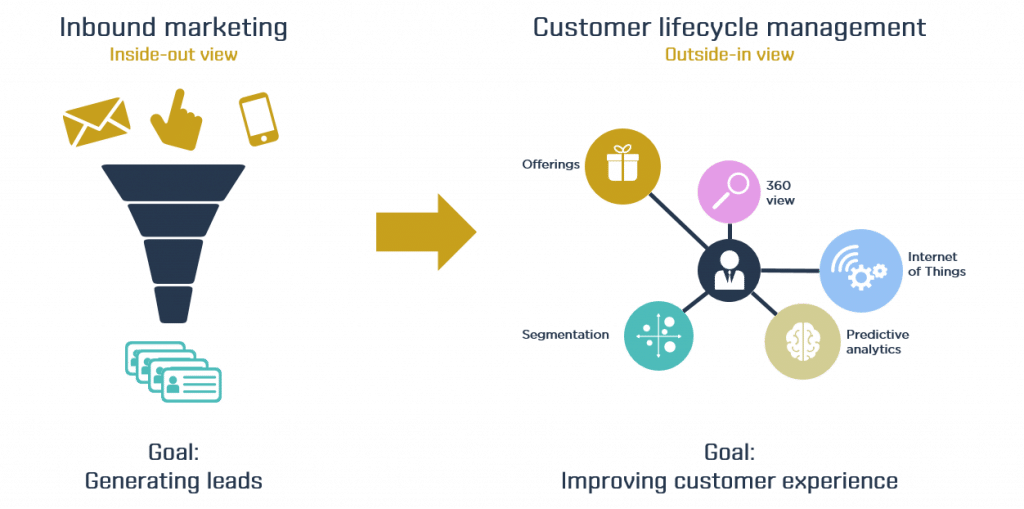 What is then holding everyone back? Why are we stuck in a funnel frenzy?
The answer is simple: most of industry players implementing marketing automation are still at an early adoption phase of new technologies and ways of working. Marketing automation tools are continuously developing, and broadening the perspective of data-driven marketing and sales. This means that the roles and responsibilities around customer management are bound to change radically in the coming years (this will be discussed in the next post).
One thing is sure – B2C marketers are way ahead of their B2B counterparts, as multichannel customer journeys and predictive data models are becoming common practice. A good tip for B2B marketers is to review the emails in your inbox from Amazon, Spotify, Google Play etc., and do a simple thought experiment – "what if we would send similar, triggered and smart messages based on customer data / CRM data / Connected device data"? Fact is, you might even already have all the tools required for achieving this, but they might be utilized for only serving your potential customers in the sales funnel.
Kiinnostuitko?
Vieraile: http://cmo2020.org/
Kysy lisää: