Every year Adobe hosts a Summit in London where they invite over 6000 customers, partners and others to dive into +150 sessions on the latest trends, tools and success cases utilising Adobe technologies. During these days, Adobe, as well as some of their users, share their ideas on the customer interaction of today or tomorrow and give us a sneak peek of what's on the agenda for the day after tomorrow. As a partner to Adobe, Avaus was there to cover the latest insights. 
It was clear that the focus of this year's Summit was personalisation at scale; building best-in-class customer experiences across channels and the customer journey. Even though this has been a protruding topic for several years, cases have been somewhat lacking. This year, however, it was apparent that companies are catching up and have connected the dots, or built the capabilities to truly personalise the customer experience in a holistic way. 
In a world where competition is global and which harbours a mindset of entitlement and endless entertainment, utilising technology to create relevant interactions is almost considered hygiene level at this point. To survive, companies will have to invest in capabilities related to data collection and customer intelligence to be able to perform customer experience orchestration in a 1:1 perspective.
With the Adobe Experience Cloud and platform (read more about the new Adobe Experience Platform in our next blog post), there are solutions available for everything – from omnichannel personalised customer experiences across the whole customer journey, to tools for recognising and identifying the minuscule details of images or even art. We were, for instance, able to add our faces to the famous painting The Scream by Edvard Munch. Depending on your end goal – some solutions are absolutely crucial to have, whereas some are simply fun.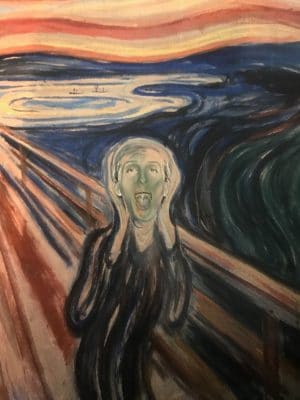 Two splendid examples of companies making good use of the available technology and simultaneously emphasising the importance and value of an agile mindset are NatWest and TUI. It was truly inspiring to see how they managed to get quite far on their personalisation journey with slightly different approaches, for very different industries, using similar technology:
NatWest

– With the insight that not many people wake up in the morning happily thinking that they have to call the bank today, NatWest set out to create a best-in-class customer experience, tailoring content to customer behaviour in a coherent way across all of their channels. They showcased how they have arranged their data sources and data destinations to understand the complex customer journeys of their clients. Matthew Harwood from NatWest also explained the "power pyramid" of data, meaning the relationship between data volume and value, as well as the variables that determine what NatWest's homepage will look like when you visit it. And no surprise, throughout the NatWest architecture you find Adobe solutions.
TUI

is optimising communications with over 245 million online visits per year! Their first recommendation for accelerating your optimisation process is to get the right tool and team in place. They have already had Adobe Target for about 8 years, but it was not until they got the strategy, team and way of working in place that they started to generate real value. The experimentation process that they now have in place managed to generate £24.3m in revenue last year – and is expected to continue its success.
Listening to the customer cases and taking part in the hands-on tutorials demonstrated at Adobe Summit, it was apparent that the vision is actually at our fingertips now – all the tools for creating 1:1 customer experiences are available. Limiting technology is no longer an excuse for poor customer interaction! However, personalisation is not realised by just implementing tools – it is the processes, vision, and growth hacking mindset that affects it.
Contact us