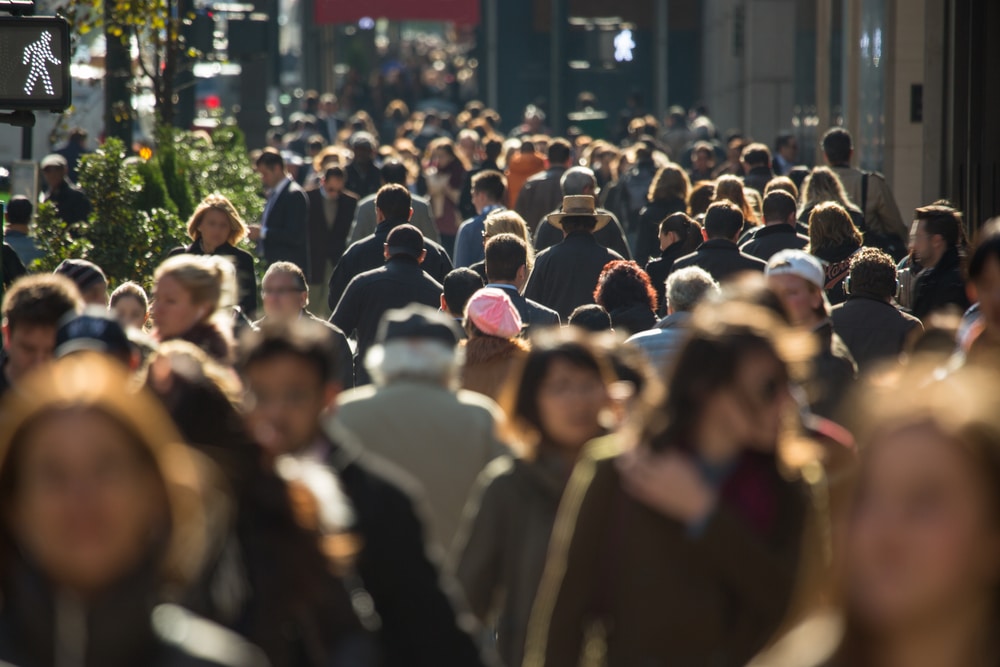 This idea is based on my real-life learnings in the world of B2B sales and marketing. But don't get fooled by a pseudo-witty heading – this may be the best way to highlight the change driven by technology and digitalization. This flip is also a great opportunity for both marketing and sales.
Technology allows marketing to reach smaller target audiences
Before digital marketing, personalized communication was limited to CEO's handwritten signatures in event invitations and christmas cards. It may have been effective, but not scalable.
Then came digital marketing and suddenly the whole internet was a target audience. Marketers also found the real killer tool – email blasting. In analytics, the focus turned to overall web traffic amounts and meaningless conversion measures. B2B marketers tried to employ B2C tactics to reach highly specified target groups. Scalable, but not effective.
So, what is 21st century industrial marketing then? It can be an email that is personalized based on past behavior of the customer, sent out due to her recent visit at certain solution website. It's 1-to-1, as no one else will ever receive the same piece of communication. With the right data, it's relevant too.
In the bigger picture, it's 1-to-1 communication across channels (be it targeted ads, triggered emails or personalized websites). It is more pull than push. It's automated processes instead of one-off campaigns. It's scalable and effective – technology allows marketing to reach smaller target audiences.
For the customer, it should be relevant, helpful and personalized. Basically it has all the characteristics of good salesmanship. But what's happening to sales then?
Technology allows sales to reach larger target audiences
While technology moves marketing towards 1-to-1 personalized communication, for sales the opposite is true. Sales is moving towards 1-to-many communication and there are two trends that highlight this change: social selling and thought leadership.
A cynic would say that social selling is posting stuff in Twitter and LinkedIn. This is partly true, but it is much more. Instead of trying to cold call a list of prospects, a savvy sales guy may use the time on LinkedIn – doing research, promoting his prospects' posts and driving traffic to his company's website with semi-automated posting.
Thought leadership is nothing new per se, but only recently have industrial companies started to shift their focus on digital channels (especially SoMe) as the mean to build this funny form of leadership. The underlying digital technologies make it possible to scale thought leadership beyond industry events – just think that how many modern marketers have seen Scott Brinker's marketing technology supergraphic versus how many have seen him live at an event?
So what is 21st century sales? It's about leveraging technology to reach your network. It is 1-to-many communication. And of course it's f2f and h2h – maybe even more than ever, as the classic sales rep is being replaced by a business consultant in every industry. But most importantly, it's scalable and effective – technology allows sales to reach larger target audiences.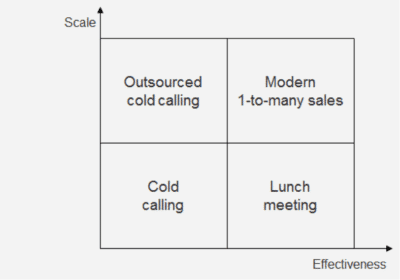 Technology is breaking the old rules of engagement
The old funnel thinking where marketing blasts the message out to everyone and sales goes to meet f2f is long gone. Technology is the one to blame – or thank, depending on your level of resilience.
But does this communicational flip mean that the roles of marketing and sales flip too? I'd argue that yes, they do, but you need better content than ever before to stand out from the rest. You also need technology to scale the content delivery. For sales it means improvements in distribution and for marketing it means improvements in personalization.
Makes sense? Well, here are the principles on how to benefit from the FLIP:
1. Fuel – Think of content as fuel, a strategic asset for sales and marketing engine
2. Leverage – Make sales a funnel originator, aiming for the largest possible audience
3. Integrate – Ensure that technology allows content distribution and measurement
4. Personalize – Make marketing go after the smallest possible target groups
Author
Henri Syvänen, (henri.syvanen@avaus.fi) | Head of B2B