The discussion around making marketers' data actionable in all channels, both internal and external advertising channels, is really getting hot right now. We now find ourselves discussing the topic and reading articles about it, nearly every day. We at Avaus have been joining the discussion with a couple of blog posts about in-house capabilities and marketing efficiency by using own data and a representative of one more traditional media agency posted their view on the subject last week (only in Finnish).
The marketer has understood that by using own data to target known or potential customers in an omnichannel environment, they can be much more efficient with their marketing activities and reach a new level of customer experience. When it comes to the discussion around how to make this happen, there is trouble in paradise. The biggest question is, do you manage your own data and your own audiences? Let us deep dive the trouble part first, before we explain how it would work in a perfect world.
Don't give away your data
We hear many marketers say that they use their own data in media buying with their media agency. This means that the marketer gives away the valuable data to an agency, which usually stores the data in their own DMP or similar, where they also store all their other customers' data. In this scenario, it is easy to match, for example, two competitors' data and use it in a campaign that aims to select another brand for the same service. It is also possible to build data groups for two different segments with an overlapping interest. This could be done, for example, by using data about customers visiting a house broker site and targeting ads for them with a new energy contract message.
Using different customers' data to build interesting customer segments has been an absolutely effective way to drive campaign results. The question mark is the hygiene level for doing this. Without any agreement between two or many different marketers, it is questionable to mix data and use it as a targeting basis. At the latest in 2018, when the new EU data law kicks in, the issue of mixing customer data together without clear agreements will become a real problem.
Data management platform (DMP) – the backbone for making your own data actionable
To reach your customers in all possible channels, you need to make your own data actionable. This means collecting data sources in one place and building target groups upon that. The data can be customer information, web analytics data, campaign data and, for example, your partners' data. By combining all these data sources in one place, it is possible to build, and then reach, your target audience in an omnichannel customer environment. You can also use your own tailored audiences to find similar new users for your prospecting campaigns – all by using your own first party data.
While your competitors continue to show ads to target groups based on third party data, you can now concentrate on individuals who've been identified as relevant for your business: existing customers or interesting prospects based on their online or offline behavior. In order to identify targets in an efficient way, and pinpoint ads in a multi-channel environment, you will need a data management platform (DMP). With a DMP you can automatically export target groups into programmatic media buying platforms, both display and social, marketing automation systems and, for example, web personalisation tools. The result of DMP implementation will be highly enriched target groups that can be found in all different channels. With the right content and timing, your customers will get a much more valuable experience with your brand.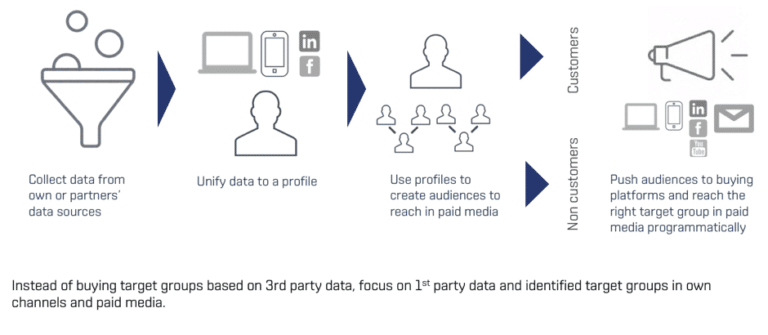 Rule your own audiences
By having the opportunity to collect your data sources into one platform, and to make  it actionable by building audiences, you can rule your own data and control it in a totally new way. By controlling the data, you decide in which channels to use it in your communication. The opportunity to communicate with a chosen audience in traditional, external advertising channels, has made many marketers build their own buying capabilities in-house. Whether to do it yourself or outsource the channel management to an agency is not, in our opinion, crucial. The main focus needs to be put into the relevant audiences and to the chosen communication channels – both external and internal need to be combined for the same customer journey. To make this seamless, you need to rule your own data.
Bonus benefit: Monetise your marketing data
By collecting your data in one platform and thereby managing your audiences, you can also find new ways of monetising your marketing data. In a world where all marketers start to collect their data in a DMP, there will be an easy way to trade data between two companies. By partnering on a data level, you might get totally new information about your customers, which might be crucial and trigger further marketing activities in your seamless customer communication.
The British supermarket chain Asda recently announced that it has decided to open up their collected first party data pool for targeting – for their own advertisers on their own websites. As forward-thinking as Asda is, this is something that the US retail behemoth Walmart started already in 2014.
Ruling and managing your own data and then sharing or mixing it with other parties' data is surely the future way to drive efficient data-driven campaigns. To make data trading possible, you first need to control your own audience with a DMP.
Contact us